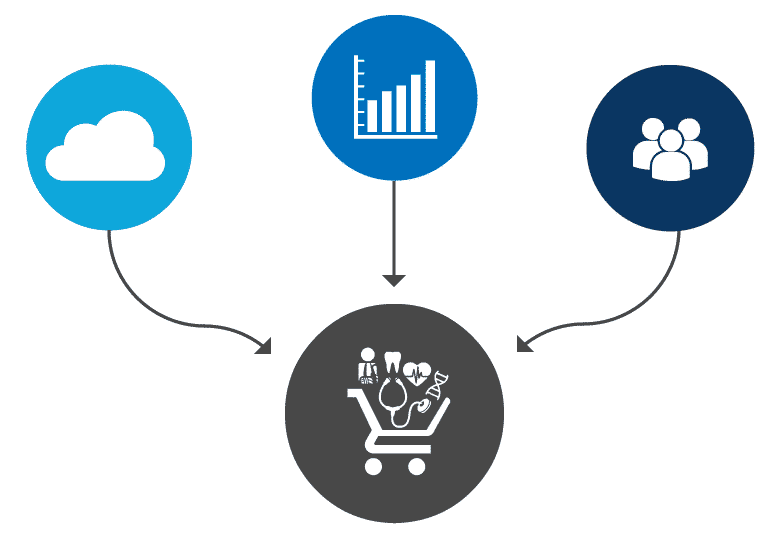 We provide our customers with secure, ready-to-use and highly customizable solutions. Our marketplace offer our customers the best chances to find the right partners to keep growing their business.
Among the solutions proposed by our Health Cloud Marketplace :
archiving
backup
secure storage
strong authentication
Big Data
IoT
videoconferencing …
Sharing, backup, archiving, securised storage and digital vault solution, for all healthcare stakeholders.
SECURITY
& DATA ANALYTICS
Accredited healthcare data services : Strong authentication, Big Data and anonymization data solution.
PREVENTION
& TELEMEDECINE
Videoconferencing, messaging and IoT (Internet of Things) solution, based on prevention and medical diagnosis.
Discover our other solutions
Make the choice of innovative, simple and affordable software solutions for pharma, consumer health and medical device companies. We offer a wide range of adapted solutions built with state-of-the-art technologies: CRM (Customer Relationship Management, CLM (Closed-Loop Marketing), PRM (Patient Relationship Management), Business Intelligence and Social Listening.
Deploy your connected health services in the world quickly with only one partner. Make the choice of our global health data hosting infrastructure, compliant with international certifications : HDS & ISO 27001 (Europe), HIPAA (USA), CSL/PHIMM (China).