Available Online & Offline
Multi-device & Same user interface
SmartReps®

One Interface – All Sales & Marketing Tools for med and pharma reps
Are your reps tired of having to navigate between several apps? Do they really use these apps? Sales and marketing tools for med, hospital and pharmacy reps should be adapted to their fieldwork.
That's why, SmartReps® combines in one single interface all necessary marketing and sales tools for med and pharma reps, from activity planning to training and digital presentations, with a great and enjoyable user experience. Contact us for a demo and you will see how we can make your reps smile again.
 
NetReps® CRM
Customer Relationship Management – Choose the difference
Do you think you pay too much for your CRM system? Do your reps believe it's too complicated? Do you feel that you should get more from your current CRM system?
Make the choice of the difference with NetReps®. NetReps® is a CRM Solution for medical, hospital and pharmaceutical reps. It includes all necessary features such as planning & reporting, key account management, order management, territory alignment, database management… NetReps® is available on any device (smartphone included) with the same great user interface.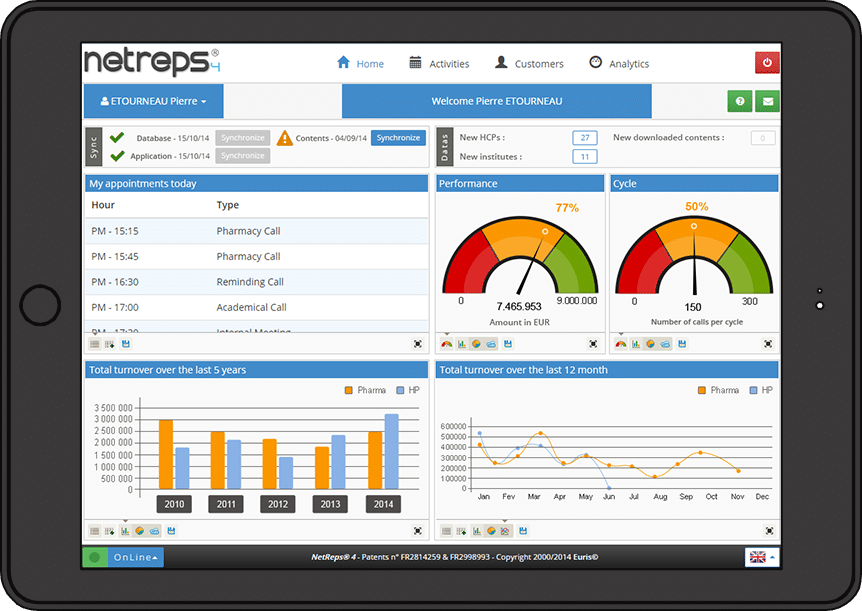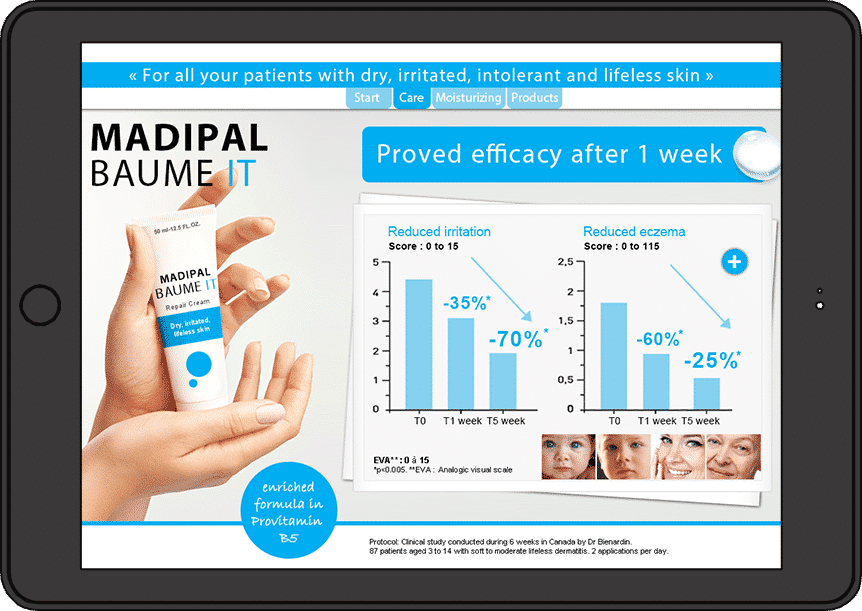 SmartContent® CLM
Closed-Loop Marketing – Innovative Multichannel Marketing
Do you think that you could do more with your marketing content? Do you track precise information on what has been presented? Do you really use these information?
Smart Content® gathers in a unique interface, all necessary marketing tools for modern reps, allowing them to better engage with physicians and improve their knowledge (dynamic presentations, content sharing, surveys and questionnaires…).
Data collected and analyzed give to reps precise and relevant information, while managers benefit from a global understanding to adapt sales and marketing strategies.
Business Intelligence
Accurate data tracking of the CRM & CLM activity
Do you need a team to consolidate your CRM & CLM data? Do your reps find the data in the same user interface? Can you build your own KPIs?
Our Business Intelligence (BI) engine will help you to tackle this issues. We build tailor-made graphical KPIs for reps and managers and we can even cross information with external data such as sales. We display all information tracked from activities, presentations, questionnaires, surveys training and display them in intuitive dashboards. Because everyone needs to see the numbers, our BI engine is integrated into all our software and all users, both reps and managers, can benefit from it.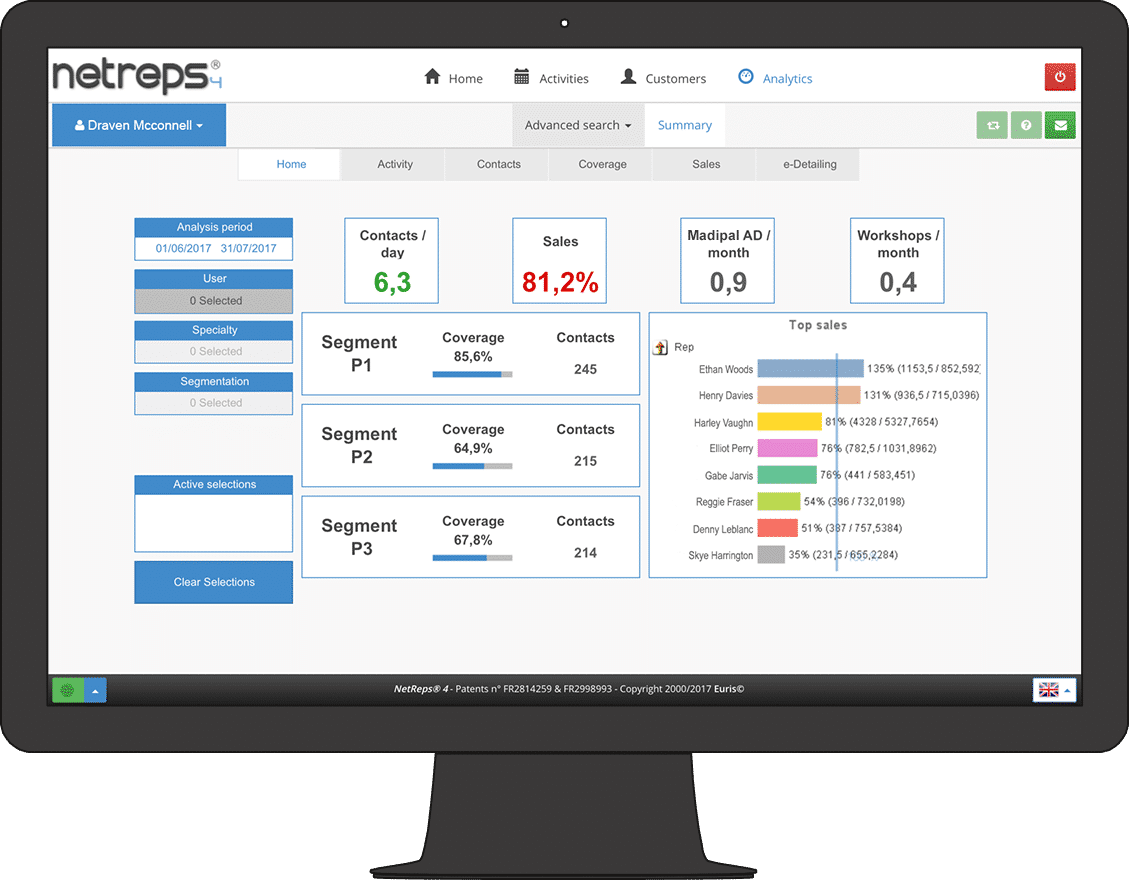 Discover our other products
Patient Relationship Management
Patient Relationship Management improves the HCP-patient communication and the experience of care.
Our PRM applications offer providers a range of new services and digital ways of interacting with their patients. Key components of our PRM tools include sharing a medical record, telemedicine features, appointments management, etc. We provide personalized digital experience and real-time communication.
Do you want to know what healthcare professionals, patients, or clients say about on the web? Do you want to track what competitors do? Do you want to track compliance? Then we can help you.
We help pharma & consumer health companies analyzing real-time web and social data (websites, social medias, forums, reviews,…). We help them understanding these data by giving digital recommendations. We refine the data and integrate it into our software or in other interfaces.
DISCOVER OUR OTHER SOLUTIONS
Find the right services to build your connected health solutions with a broad catalog of ready-to-use services : Storage & data sharing, Security & data analytics, Prevention & telemedecine, and Consulting.
Deploy your connected health services in the world quickly with only one partner. Make the choice of our global health data hosting infrastructure, compliant with international certifications : HDS & ISO 27001 (Europe), HIPAA (USA), CSL/PHIMM (China).