The best of
2 Cloud Worlds
Hybrid Cloud dedicated to the Healthcare sector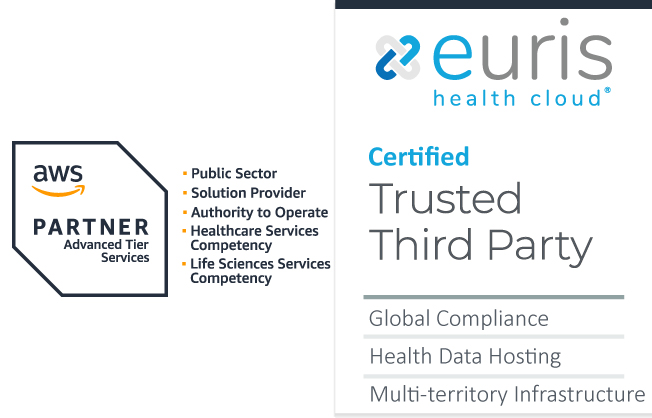 Euris Health Cloud is a healthcare-exclusive, global certified AWS managed services provider. Healthcare & Life Sciences companies trust Euris Health Cloud to safeguard their Health Data worldwide
Euris Health Cloud® Hybrid AWS provides the best of both cloud worlds: a private cloud infrastructure interconnected at high speed with AWS public cloud resources. All secured, approved and certified by Euris Health Cloud® for all 6 activities defined by the HDS: 2018 and ISO/IEC 27001: 2013 certifications.
Our hybrid offer allows you to leverage the computing power and services of the AWS cloud (medical data processing, high-volume data analysis, etc.) while maintaining a private, compliant and certified infrastructure for your sensitive resources. The hybrid cloud provides budget flexibility, as healthcare organizations can choose where to store different types of data based on what is most cost effective.
Advanced monitoring & automation combines with a comprehensive Master Service Agreement (MSA) ensures the highest standards in security and compliance.
Accessible and usable by its authorized recipient at the place and time specified
Alterable only by authorized persons and according to a pre-established process
Only accessible to authorized persons
All modifications or movements of the data are tracked
Euris Health Cloud® – Hybrid AWS assures you that your personal healthcare data are in conformity with the highest standard of compliance and follow A.I.C.A. requirements:
Availability : accessible and usable by its authorized recipient at the place and time specified.

Integrity

: alterable only by authorized persons and according to a pre-established process.
Confidentiality : only accessible to authorized persons.

Auditability

: all modifications or movements of the data are tracked.
Our Health Cloud®- Hybrid AWS compliant & secure offer increases the security of health data, and allows you to focus on your product & business development.
You can think globally and easily Plan, Deploy, Scale up your project to faster your business development to many areas & countries (Americas, Europe, Asia, Middle East…)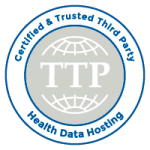 Our cloud architecture guarantees security, quality of service and access to the technological resources required for data processing and analysis.
Powerful Euris Health Cloud – AWS infrastructure & services

Cost Optimization

Multi-territory Availability
Cloud governance and respect of local compliance regulations applied to health data
Security and Level of Service (SLA):
99,9% Availability

Global Time Recovery (GTR) 4 H
Service 24/7
Global Compliance
Multi-territory Infrastructure
The most secure, performant and reliable multi-territory cloud infrastructure for all your health services.
Euris Health Cloud® offers a certified healthcare data hosting combined with the power of AWS cloud to develop your e-health projects.
We help Healthcare and Life Sciences organization to innovate in confidence.
Euris Health Cloud & AWS – Global Health Data Hosting Coverage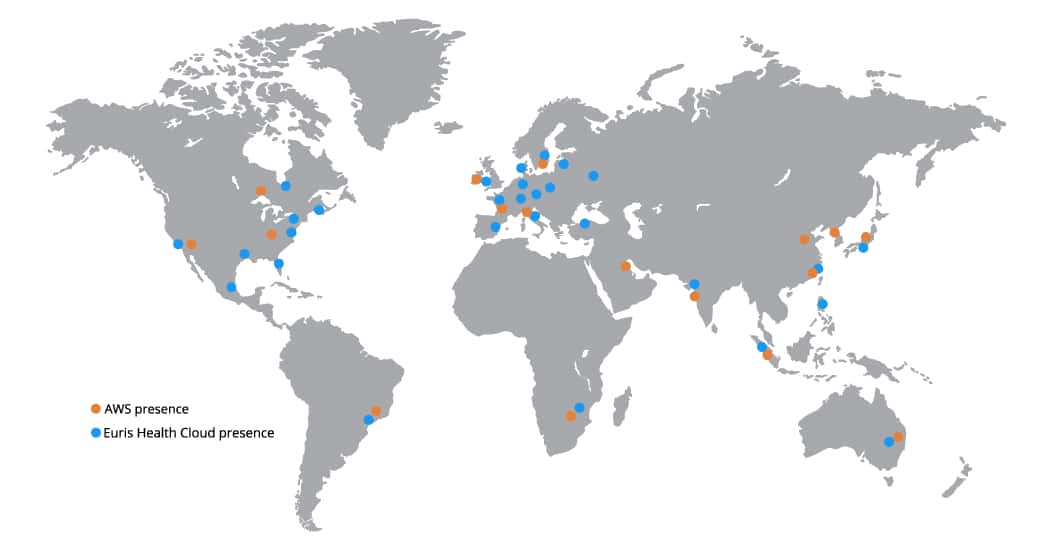 Thanks to the partnership established with Euris Health Cloud®  and AWS, Air Liquide benefits from an approved high availability, certified and secure health data platform for the storage of medical data and the implementation of patient monitoring services. Discover outreach of Air Liquide's health infrastructure and how the Euris Health Cloud Hybrid AWS infrastructure implemented met Air Liquide high standards of global compliance & health data security.
Rofim – Leader Telemedecine platform
Rofim, a European leading player in telemedicine and tele-expertise, choose Euris Health Cloud® Hybrid AWS solution for the deployment of its secure telemedicine platform, designed to facilitate the exchange, sharing and mutual support between members of the medical community in France, composed by more of 500 healthcare professionals.
Masimo – A global medical device company present in more of 150 countries
Masimo develops innovative non-invasive patient monitoring technologies, medical devices and a wide range of sensors.
Masimo selected Euris Health Cloud Hybrid AWS to deploy  Masimo SafetyNet , a remote patient monitoring and measurement management solution for home care monitoring, designed to fight the COVID-19 pandemic.
Discover the success story of our client Masimo and how the cloud offer deployed addressed their security, availability and performance requirements.
SIVAN Innovation – an innovate digital platform for the early detection of lung cancer
SIVAN is an e-health company committed to improve the lives of cancer patients worldwide.
Sivan Innovation creates and deploys Moovcare®, a class 1 medical device to detect lung cancer relapses and complications, and the first digital therapy to be covered by the French health insurance system. Moovcare® helps physicians detect relapses and complications at early stage and provide the right treatment at the right time, therefore optimize the individual care management of lung cancer patients.
Sivan has chosen Euris Health Cloud AWS Hybrid Cloud infrastructure for the rollout of Moovcare®.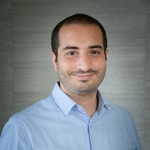 «EURIS is an ideal partner for us who offers us an health data hosting platform with AWS. They are very knowledgeable and always available. We are delighted to be working with EURIS.»
Samuel Amsilli, DevOps & IT Manager Sivan Innovation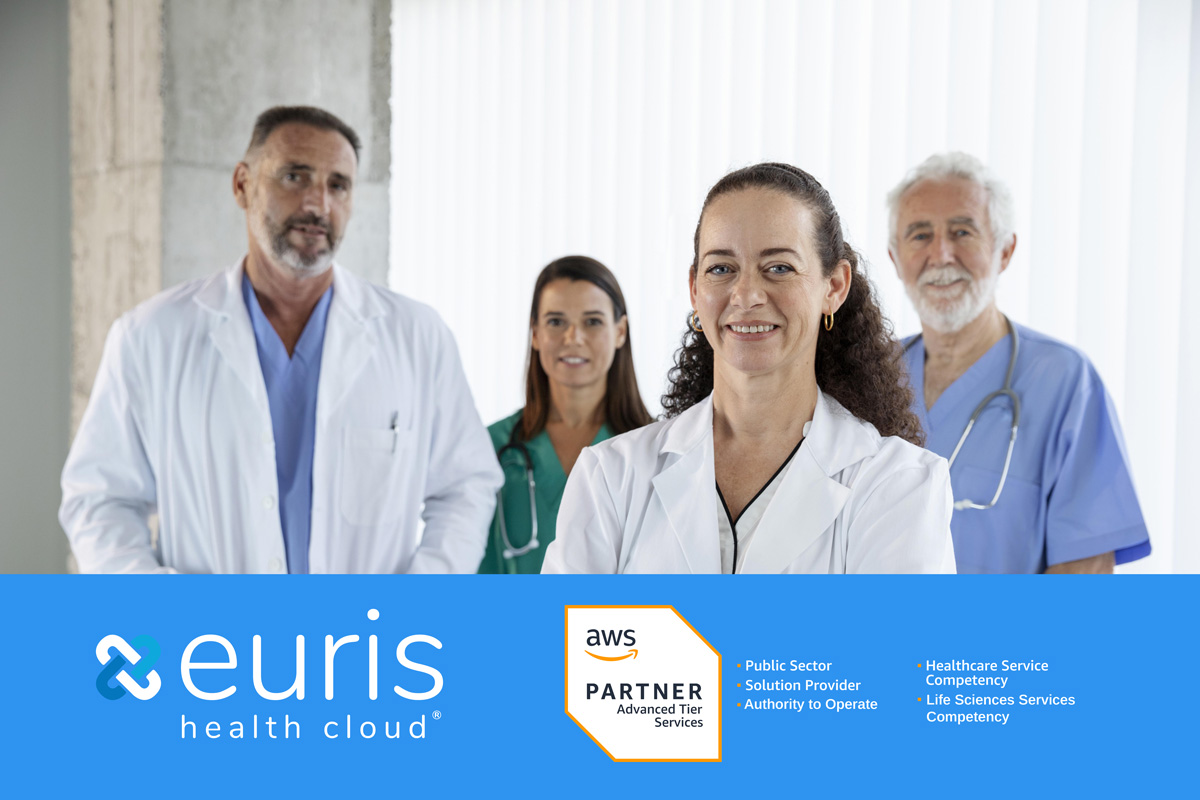 COMPLIANCE WITH GXP EXIGENCES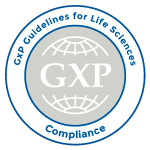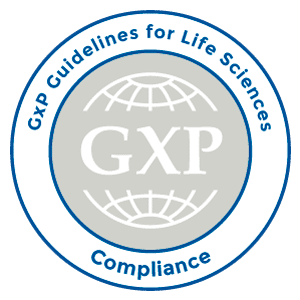 Euris Health Cloud, as cloud service provider:
Has established a GxP compliance monitoring approach.
Based on the requirements determined in Title 21 Part 11 of the U.S. FDA CFR which contains requirements for computerized systems that create, modify, maintain, archive, retrieve, or distribute electronic records in support of GxP regulated activities.
Also based on the various certifications and compliances obtained by Euris Health Cloud (ISO 27001, HDS, HIPAA and GDPR).
These requirements relate, in general, to the authenticity, integrity and confidentiality of electronic data. Euris Health Cloud has based its Information System Security System on the AICA criteria (Availability, Integrity, Confidentiality and Auditability).
More details about Euris Health Cloud GxP Compliance here
AWS GxP ressources available here
All the power of our Certified Health Cloud at the service of your Health IT projects worldwide.